Opening the Tada Shopify App
To get started, you'll want to login to your Shopify Store Dashboard. To do this, you'll want to visit:
https:// your shop url.com/admin/
Once logged in, you should see a menu on the left hand side of your screen, you'll want to select Apps
From the page that comes up, you'll want to select your Tada Shopify App
Creating your new Widget
You'll land on your Tada Dashboard. From there you can scroll down until you see the Create new widget button and click it.

Name & Type
You'll then want to give a name to your Widget. For example, this could be Homepage Promo Black Friday and select the type of Widget you'd like to use. We currently have two games available: Wheel of Coupons & Pick a Gift along with a flexible Pop Up. Make your choice using the Select Widget button or use the Preview button if you want to try them out first. You'll be able to customize them on the next step.
Once you're happy with your choice, click the Create Widget button at the bottom of this section.
Coupon offer
Next, you'll want to decide what kind of discount you want to offer your visitors.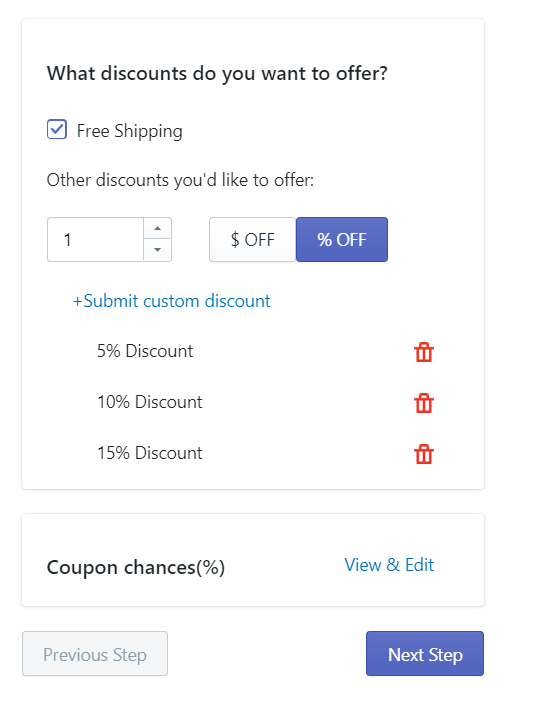 In this example, I opted to offer my visitors a chance to win one of four possible discounts. Free Shipping, a 5% Discount, a 10% Discount or a 15% Discount. You can create your own discounts by selecting the amount and selecting the discount type as either $ OFF or % OFF. For example, a 3$ OFF coupon would reduce their Checkout amount by 3$.
You can customize the Coupon chances (the drop rate of each discount) by clicking the View & Edit link. Using this feature, you could, for example, make the 15% discount drop only 1% of the time while increasing the likelihood of the receiving the Free Shipping discount.
Please note that the total sum of the Coupon Chances should always be 100.
We'll click Next Step once we're happy with our discounts.
Widget Style
In this next section, we get to choose the color scheme of our Widget to make sure it will look good on our site. We also have some neutral color themes (Clear & Dark themes) that will work with most websites.
Click Next Step once you like the colors of your Widget.
Widget Settings
In this section, you can select which pages of your site your Widget will show to your visitors and how often.
In the "Where does my Widget show?" dropdown, you can select where you'd like your Widget to be seen. Learn more about this with our How can I pick where to show my Tada Widget? article.
In the "When does this Widget show?" dropdown, you can select one of the following:
Every new visit of page

: your Widget will show every time a visitor goes to a new page until played or closed.

Once per user

: your Widget will show once to each visitor.

Once every period of time

: your Widget will show immediately to each user, and then wait the specified period of time until getting showed again until played or closed.
In the following section, you can decide on a reminder of how long your visitors have to redeem their discount. You can also customize the position of your reminder or disable them altogether.
We have two options available which are:
Sticky Bar (in line with the Widget colors selected)
Bubble Reminder (using the same colors as the Widget style selected) The text with the countdown appears when clicking the gift icon. Middle right placement in this example.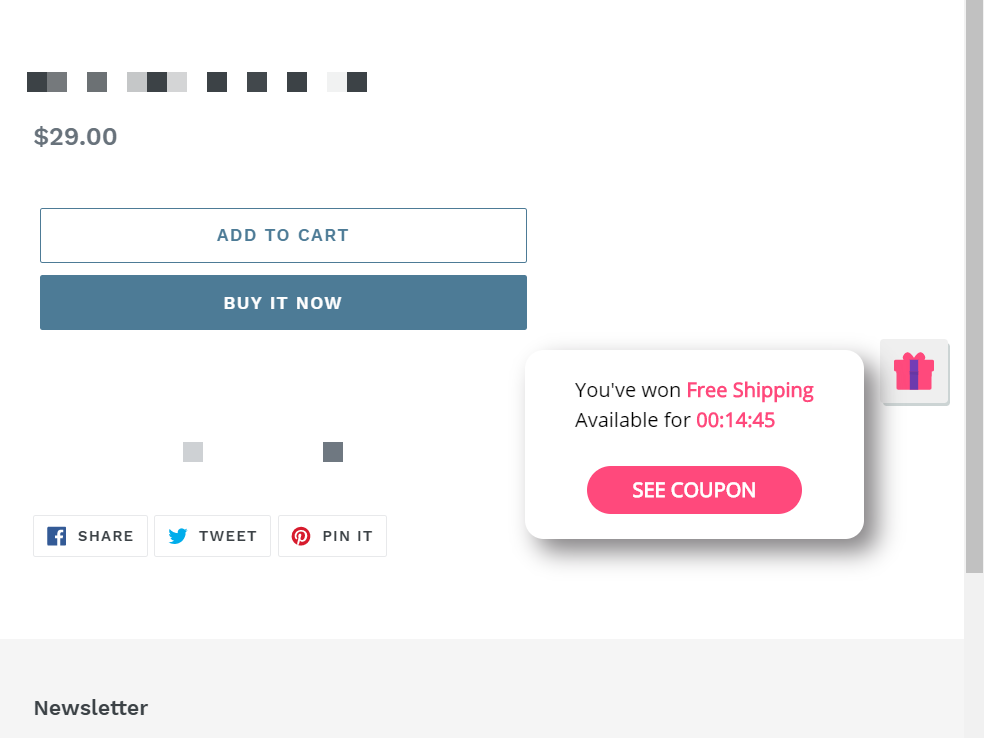 Advanced Settings
You may also want to edit some specific details about your Widget such as its captions or the time before the coupon expires. You can edit all of this and a lot more by clicking the View Settings link under the Advanced Settings section. Learn more about this in our What can I edit in the Widget Advanced Settings section? article
Once you're all set with your settings, click the Save Widget button.
Congratulations, you're all done creating your first Tada Widget!