The settings for Delay before showing Widget can be found under 3. Widget in your Tada App Dashboard.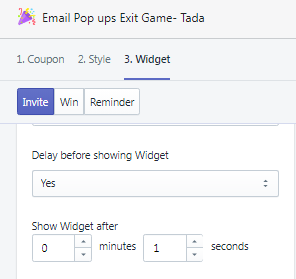 The reason there's a delay is that Shopify needs some time to load Tada on your page. This usually takes 1 to 2 seconds. Consider this the minimum delay before showing your Widget on your page.
Our timer starts when Tada gets loaded on the page.
The way Shopify works is that they load your page, and then start loading asynchronously all the apps
(including Tada).
Keywords:
The time delay appears 00 minutes 00 seconds but there is a 2 seconds delay, why?
Is this a Tada App issue?