Viewing and exporting collected emails within the App is possible. One way to gauge the performance of each widget is to check the emails collected. There are two ways to do this. Below is the step-by-step guide to help you navigate through this feature.
1.) Go to your Tada Dashboard and select the Widget you want to view the emails with.
Note: If you cannot find the chosen Widget, you may want to expand your view by clicking the View all Widgets button. (This happens when you have 4 or more widgets created from your app).
2.) Click the Arrow down button to get further Actions/Options.

After clicking the arrow down button you will have 6 options and from the 5th one, you will find View Collected Emails options and click it!
You'll see the emails you've collected from this Widget. In this example, Widget 003 has collected 5 emails.
From here, you will have a better view of not just the email, but also the coupons they got during their visit to your store.
You can tick selected boxes if you wish to select certain customers or discount results only.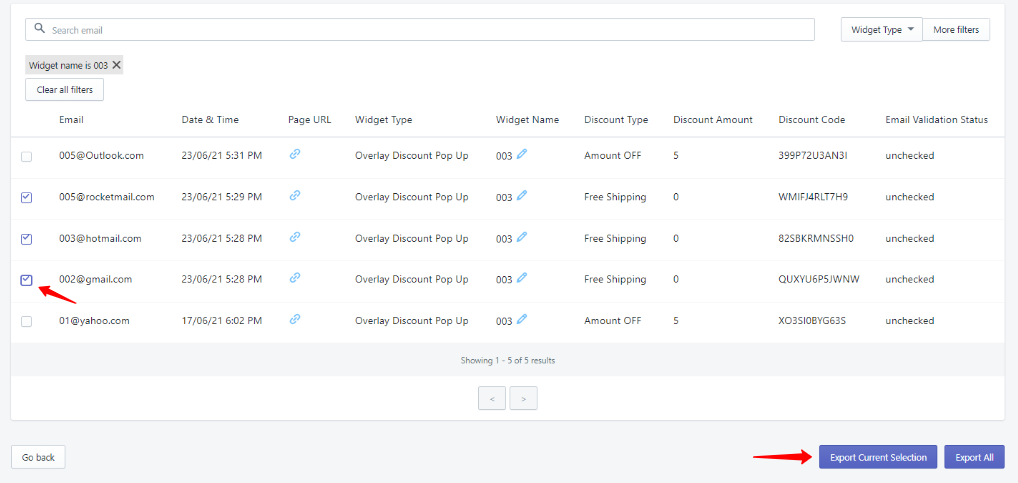 You can clear the filter if you want to view all the emails collected.
You can select more filters to custom select the emails that you want to export.
From here you will have more options from Date, Widget Type, Name, Discount Type, Amount, Code.
Feel free to play around with it and customize it base on your preference.
This view also allows you to access the Widget and edit it if it is still active, it will have a Pen Icon and when you click it, it will lead you to the Edit Widget section.
3.) Finally, when you are done with your selection all you have to do is click the Export All or Export Current Selection Button.
The Second way to access your collected emails is by going to the Dash Board of your Tada App.
and selecting Collected Emails.
1.) Go all the way to the bottom feed of your dashboard and click the Collected Emails Button.
After clicking the button it will then lead you to the filter of the most recent Widget that was published. In this example, it is 003 Widget.
Note: You can clear and customize if you are looking to view a different widget.
Here is how it looks like from your CSV or Excel File.
If you encounter a problem whilst exporting email, please do not hesitate to contact us. Our live chat team is here to assist or you can send us a ticket on this link.
Keywords:
Can I Identify the codes given to my customers?
How do I gather all the no-win coupons from Tada?
Can I instantly get the emails and discount codes from all the widgets?