Yes, you can! To move or delete the Tada Coupon Reminder on your website, head to your Tada dashboard then on the widget that you want to edit. Click on the Customization tab and locate the Countdown Timer Reminder section.
To remove the reminder, you can click on the Disable button. However, if you just want to move the location of the Coupon Reminder, click on the second drop box and select either Top or Bottom if your reminder is a Sticky Bar.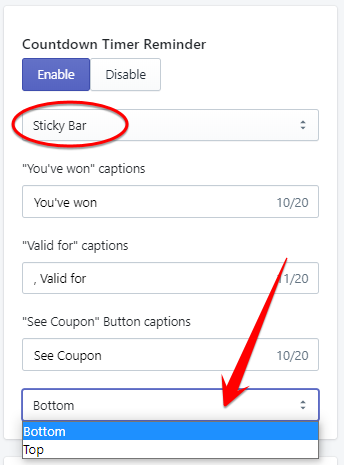 If the reminder still blocks an important part of your website, you can opt for a Bubble type reminder. You have more options to move the Bubble reminder which will maximize your website contents.
If you have any other questions, you may submit a ticket here and we will get back to you as soon as we can.
Keywords:
How can I move the coupon reminder?
Can I change the style of my coupon reminder?
Can I delete my Tada Coupon Reminder?