Of course! You can customize the design of your widget in the Visual Style and Customization Tab.
In the Visual Style Tab, you can choose the background picture of your pop-up to make sure it fits your site. You can click Go to Unsplash and it will direct you to a free-to-use-commercially image repository where you can search for an image to use in your pop-up.
You can also upload your own image by clicking Add Image and selecting the background picture from your computer.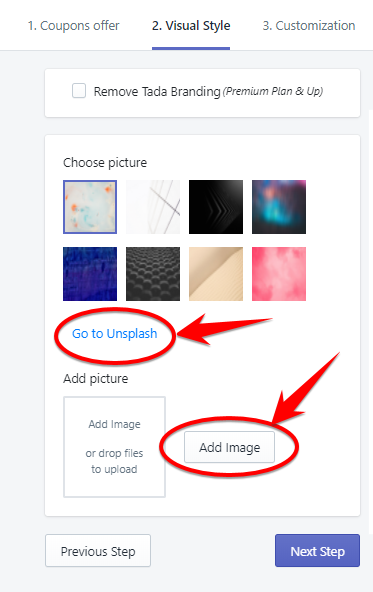 On the Customization Tab, you can customize your pop-up even more by changing each and every captions that will be visible by your visitors. These include the title of the pop up and text captions, Email field captions, and even the Submit button and exit link captions. You can also customize the captions in your Result screen to fit your website's writing style.
If you have any other questions, feel free to submit a ticket here and we will get back to you as soon as possible.
KEYWORDS:
Can I design my widget to fit my website?
How can I customize the style and design of my pop-ups?
How can I make my widgets more eye-catching?